Atlas All-In-One
When our customers ask for something different, we deliver. The last few years have been challenging for everyone: contractors, distributors and manufacturers alike. The fragility of our systems has become quite obvious and we need to rethink how we work.
We have to be smarter about inventories and more responsive when it comes to being able to tackle a wide variety of projects. In this environment, narrowly-focused, project-specific products are becoming less and less desirable.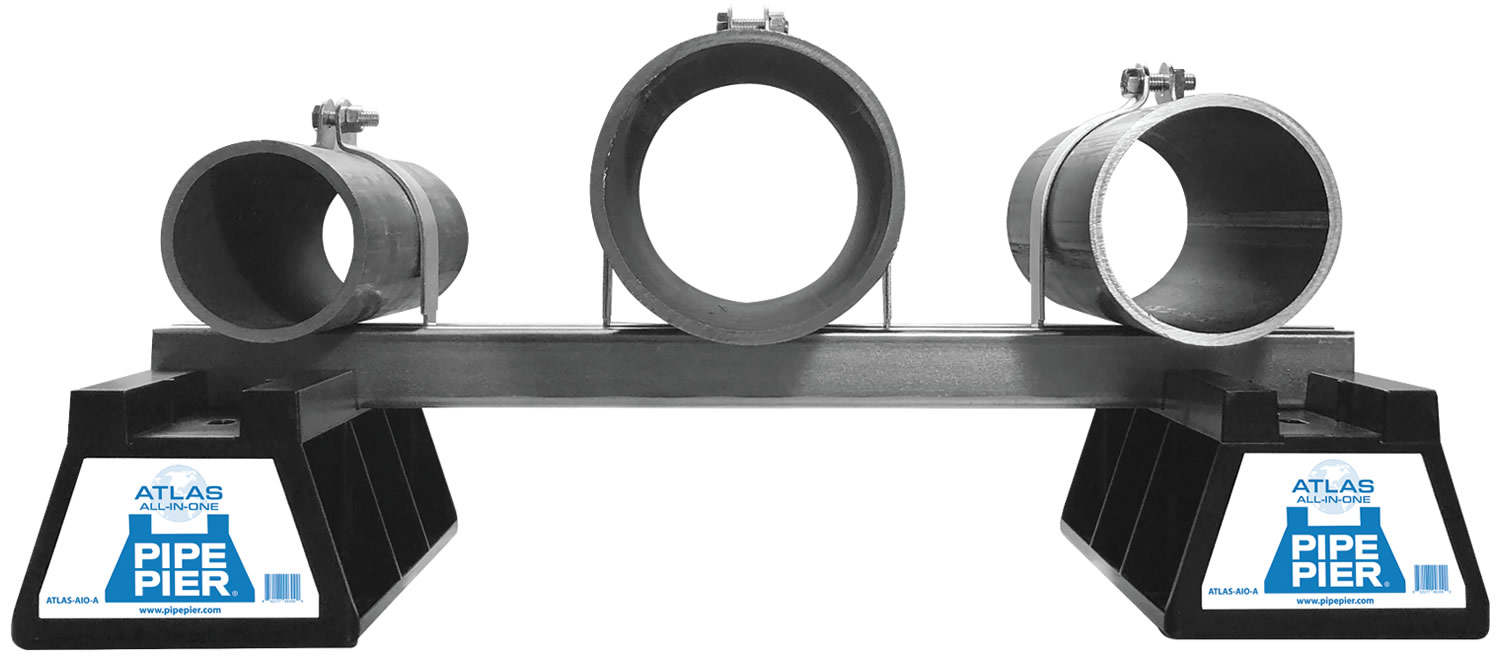 That's why we are excited to present the ATLAS All-In-One. Designed from the ground up to be unbelievably strong, uniquely versatile and extremely cost-effective, the Atlas quite literally is the last support system you will ever need.
Rooftop Pipe Supports
A wide base and large footprint can easily accommodate pipe sizes up to 6 inches on a single support. This will be the most common application, naturally.
But when there is something out of the ordinary, that's where Atlas really shines. Large pipe? Multiple pipe sizes? Equipment? No problem. Use the innovative bi-directional strut channels to quickly and easily gang multiple base units together to create a nearly infinite number of combinations.
Extremely adaptable for virtually any rooftop support project: from gas, water or condensate piping, electrical conduit and even heavy equipment
Integrated, bi-directional strut channels allow multiple base units to be securely combined to accommodate larger pipes, multiple runs, ductwork and equipment
A wide base and large footprint better distribute weight and provide solid protection for any roof surface
Made of weatherproof polycarbonate for high performance and longevity in harsh environments
Specifications
| | |
| --- | --- |
| Maximum Capacity | 2850 lbs |
| Rooftop Working Load (calculated at 5 psi) | 315 lbs |
| Height | 4.5" |
| Length | 10.625" |
| Width (base) | 6" |
| Weight | 2 lbs, 6 oz |
| Packaging | 6 units / box |
| Pallet Quantity | 288 |
| Part # | PPA-001 |
| Included strut | 1 5/8" x 13/16" x 10" 14 ga Galvanized |
| Installation Instructions | View PDF |
| Pipe Load Calculation / Spacing | View PDF |
| Conduit Load Calculation / Spacing | View PDF |
NOTE: Please consult roofing manufacturer or project engineer for maximum allowable rooftop load.
Need additional roof protection, vibration isolation or wind resistance? Check out the Atlas All-In-One custom boot.